Product Info
Callus Intensive Cream
The Hansaplast Callus Intensive Cream is especially developed for callus-prone feet. Its intensive formula with 20% urea effectively reduces callus, rehydrates very dry skin and strengthens its protective function. The urea, a substance that naturally exists in the upper layers of our skin, works here to remoisturise the skin from within. This unique formula effectively provides long-term results and will help your feet become noticeably smoother and softer.*
This product is suitable for diabetics.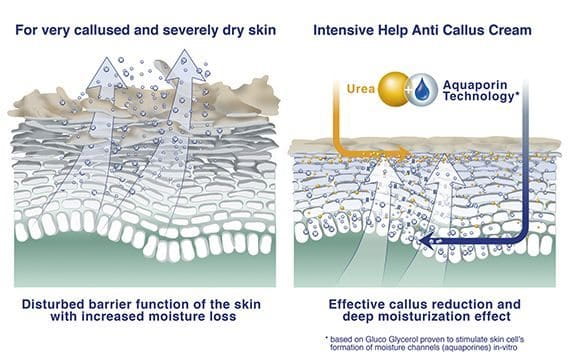 Dermatologically Approved

Based on clinical studies, this product is confirmed to be skin-compatible.
Clinical studies
Improved skin conditions
Hansaplast Callus Intensive Cream has been tested in dermatological studies, and its ability to significantly improve skin conditions, its efficacy and its skin tolerability were also confirmed. This product is an effective and safe option in the treatment of very dry and calloused foot skin.
The test confirmed that the formula also:
significantly reduces dryness, callus, scaling and roughness
significantly improves skin hydration levels
noticeably improved the skin (as observed by participants)
remained tolerable to the skin throughout the course of the study
* Dermatological application study with 33 subjects, 91% of the users state it noticeably softens and smoothens skin after four days.
** Dermatological in-use study: 55 healthy female subjects, including diabetics with hyperkeratotic, very dry, rough foot skin.
Ingredients
Aqua, Urea, Glycerin, Sodium Lactate, Cetearyl Alcohol, Glyceryl Glucoside, Hydrogenated Coco-Glycerides, Caprylic/Capric Triglyceride, Ethylhexyl Cocoate, Octyldodecanol, Cera Microcristallina, Dimethicone, Lactic Acid, Sorbitan Stearate, Aluminum Starch Octenylsuccinate, Phenoxyethanol, Paraffinum Liquidum, PEG-40 Castor Oil, Sodium Cetearyl Sulfate, Carbomer, Limonene, Citronellol, Geraniol, Parfum
How to Use
Application
Apply two times daily in a circular motion to the affected areas, heels and soles until fully absorbed.
Extra tip: For best results use Hansaplast Callus Scrub & Care beforehand.
Avoid contact with eyes or open wounds. Do not store above 25°C.
Packaging Size
Aqua,
Urea,
Glycerin,
Sodium Lactate,
Cetearyl Alcohol,
Glyceryl Glucoside,
Hydrogenated Coco-Glycerides,
CaprylicCapric Triglyceride,
Ethylhexyl Cocoate,
Octyldodecanol,
Cera Microcristallina,
Dimethicone,
Lactic Acid,
Sorbitan Stearate,
Aluminum Starch Octenylsuccinate,
Phenoxyethanol,
Paraffinum Liquidum,
PEG-40 Castor Oil,
Sodium Cetearyl Sulfate,
Carbomer,
Limonene,
Citronellol,
Geraniol,
Parfum
Product

Type

Quantity

Product

:

Callus Intensive Cream

Type

:
Quantity:
75 ml

Frequently Asked Questions
(11)