About - All you need to know about dry skin and callous
... Dry skin
The skin holds a certain amount of moisture which is needed to keep the skin supple and able to withstand the different types of pressure and external influences that it is placed under.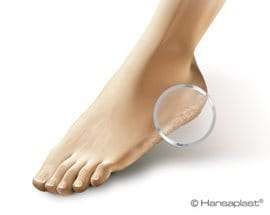 Not unusual: dry skin on feet
The hydration of the skin can decrease
, causing the skin on your feet to become dry, and, in combination with pressure or friction, to build up callous areas. Causes vary: Some people just have a skin that is drier than others. Reason might also be a genetic predisposition to develop dry skin, or diabetes, in which dry skin occurs as a side effect. Skin tends to become drier with age as well. Long, hot baths and showers can also make your skin drier.
... Callous
A callus (Latin, medical noun) is an extended area of thickened skin mainly on the soles and heels of the feet. Callous skin (the corresponding English adjective) forms wherever the skin is exposed to pressure and friction over a longer period of time. The outer layer of the skin, the epidermis, reacts by building up and forming callous skin in layers. (medical term: hyperkeratosis).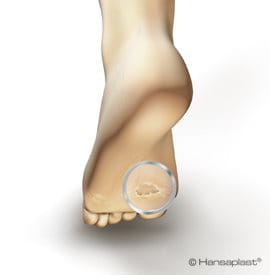 Foot with a typical callus patch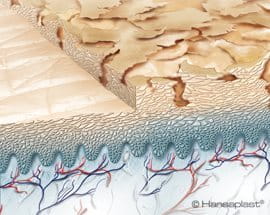 Hyperkeratosis: increased thickness of horny layer
It is mainly seen on the sole of the foot (palms of the hand and fingers can also be affected) and appears as a yellowish thickening. In most cases, it is painless. Once exposed to excessive and constant pressure, it can also get worse and crack (see also: Instant help for cracked heels). Little to moderate callus formation is nothing but a cosmetic or aesthetic problem; especially when wearing open shoes. Yet thickening of the affected areas can lead to painful and incommoding callus formation.
"It's a thin line between an aesthetic issue and an incommodity"
Medical background: The stratum corneum (cornea = horny skin/Lat.) is the uppermost layer of the epidermis. Between the cornified cells (corneocytes) lie the epidermal lipids. The horny layer - especially the bottom third - forms the permeability barrier, which is the skin's true barrier against exogenous factors and endogenous water loss.