About - Info On Upper Back, Neck And Shoulder Pain
Neck pain is a common problem. Quite often it is associated with a lack or underuse of neck muscles (yes, you do have muscles there!). Additionally, stress and a (physically) monotonous work situation can play its role, too.
Neck pain can be extremely painful and radiate to other areas
In most cases, the reason for pain in the neck is simple:
it results from untrained muscle groups and strain, especially if you spend large amounts of time sitting at a desk in the same position. Psychological factors such as working under a lot of stress and tension can also be contributing factors.
Even athletes can suffer from neck pain
, due to weak muscles, as upper thoraic training is not a neck training. Neck muscles need to be addressed specifically!
Neck pain – What are the most common symptoms?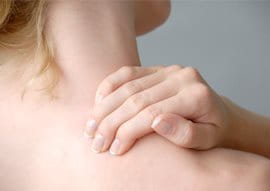 Sore neck muscles - an unpleasant symptom
Problems in the lower neck can radiate to the shoulders or upper arm regions. Pain in the high cervical region of the neck can lead to headaches or other symptoms such as dizziness or even reduced range of motion.