Fast Healing Plaster
Promotes up to 2 times faster healing*
Helps to reduce scarring
Waterproof breathable
Suitable for sensitive skin
* compared to dry wound healing
Product Info
Hansaplast Fast Healing
Hansaplast Fast Healing plasters speed up the healing process by up to 2 times compared to dry wound healing and are suitable for covering all types of smaller wounds. For optimal healing results, the plaster should be worn for several days.

The waterproof and breathable material of the plaster covers and protects the wound against external influences. The wound pad is made of a skin friendly polyurethane material which does not stick to the wound. It selectively absorbs wound fluid while keeping the wound moist, thus accelerating the healing process and reducing the risk of scarring.

The strong adhesion ensures that the plaster stays in place for several days.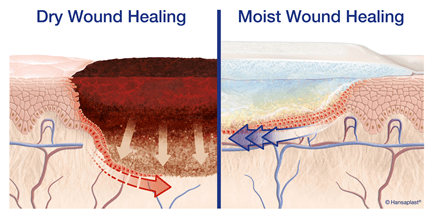 Creating moist wound healing conditions with the Fast Healing Plaster.
© Hansaplast
Clinical studies
The efficacy of the Hansaplast Fast Healing plasters has been proved in clinical studies. Interested in knowing more?
Packaging Size
Product
Type
Size
Quantity
Product :

Fast Healing
(one strip size)

Type:
Size:
43 x 65mm
Quantity:
8 Strips